Norman Hay plc Resurfaces in 'One Thousand Companies to Inspire Britain' Ranking
NHE's parent company, Norman Hay plc, has been recognised as one of the 1,000 Companies to Inspire Britain, for the second year running.
The company is one of only 147 to be recognised for a second time by the London Stock Exchange (LSE) in its 2015 report and one of 88 companies from the West Midlands on the list.
The 1,000 Companies to Inspire Britain report was established in 2013 as a celebration of some of the fastest-growing and most impactful small and medium-sized enterprises (SMEs) in the UK. Companies were selected based on the performance activity data of every registered business in the UK against a set of identifying factors established by the LSE based on relative growth. This focused on revenue and performance compared with competitors, as well as internal growth – employee numbers, workplace expansion – and number of patents filed. Companies who made the list were recognised as the most successful businesses in each sector compared with their peers and championed as making a significant impact to the UK's economic recovery.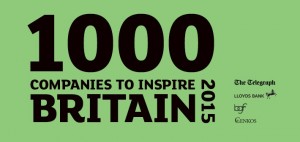 Vic Bellanti, Chief Executive of Norman Hay, commented: "We are extremely proud to be recognised for a second time by the LSE, especially as less than one sixth of companies on the list have appeared in both reports. This is testament to the collaborative effort and enterprise of the Norman Hay team and our constant drive for innovation and growth.
"We are proud of our industrial heritage and want to continue championing Coventry and the region as a manufacturing hub that is making a real contribution to the UK economy."
Xavier Rolet, Chief Executive, London Stock Exchange Group said: "This report is a significant part of London Stock Exchange's broader campaign to support UK high growth companies in their journeys from Start-up to Stardom and to create an entrepreneurship revolution. I'm delighted that a strong alliance between UK Government, financial market participants, investors, entrepreneurs and companies has been created to support these inspiring businesses."
Norman Hay is headquartered in Coventry, and the group operates four main businesses: Ultraseal, the market leader in impregnation chemicals and process equipment; Surface Technology, specialists in the development and application of high performance surface treatments; SIFCO Applied Surface Concepts (ASC), global leaders in selective plating through 'The SIFCO Process®'; and NHE, manufacturing bespoke process plant and equipment. Together, Surface Technology and SIFCO ASC provide a single global access point in surface coating technology through the 'Coatings Group'.
For further information about Norman Hay can be found here.